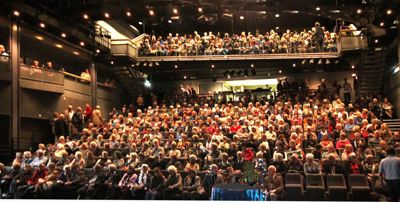 About Senioruniversitetet i Lillestrøm "SUL» (English)
"Senioruniversitetet i Lillestrøm" (SUL) is an U3A-organization ("

University of 3rd Age

") in Lillestrøm, Norway.

Lillestrøm is the center town in the municipality with the same name, located about 20 km. northeast of Oslo – midway to the OSL Airport Gardermoen.

The organization was established in 1993 and has since then, grown to more than 1,400 members in 2020.

The main aim of the organization is the education and stimulation of its members, by providing them a forum to study subjects of their interest, exchange of experience, social contact, participate in study groups, educational travels, etc.

The organization is administered by volunteers elected by its members, at the annual meeting in February each year.

The structure of the organization is a Board led by a Chairman, and several Committees.

The Board arrange about 12 annual plenary meetings, on subjects deemed of interest to the members.

The committee for Art and Culture (Kunst og Kultur - KK) arrange visits to concerts, museums, theaters etc.

The committee for Travel (Reise) arrange travels, generally of a cultural and/or an educational nature.

The committee for History, Society and Science (Historie, Samfunn og Vitenskap – HSV) arrange series of lectures for in depth studies of selected subjects each semester.

The members of the board and of the committees do their work without remuneration.

Individuals in the age of 55+ are welcome as members.

The annual membership fee is at present NOK 250 (about 22 EURO). This covers expenses for meeting rooms and lecture fees or all plenary meetings.

Non-members may attend a plenary meeting, at a fee of NOK 100 (about 11 EURO) per meeting.

The expenditures for Art and Cultural arrangements, Travels and HSV-seminars are covered by participation fees for the specific arrangement.
Click links below to see (in Norwegian):
Members of Board and Committees ("Styre og komiteer") – check current year
Statutes ("Vedtekter") OR: English translation by Google
Plenary meetings ("Medlemsmøter") OR: English translation by Google
Membership Development "SUL medlemsutvikling") – from 1993 and forward